AM SF: Black Past and Presence at SF State
"When we say black, what does that mean?"
Jarrel Phillips, artist and curator, asked himself that question in order to assemble his latest exhibit. "I Am San Francisco: Black Past and Presence," on display in the Associated Students' Art Gallery, explores the way black people and their culture are viewed and discussed within and outside the community.
Phillips said he was pushed to create it after witnessing a dwindling black population in his hometown of San Francisco.
He recruited some close friends to help push the exhibit to its full potential. One was Mike Forks, a photographer and Phillips' cousin. Forks contributed several striking portraits, and he exuded the same passion for empowering his community as Phillips did.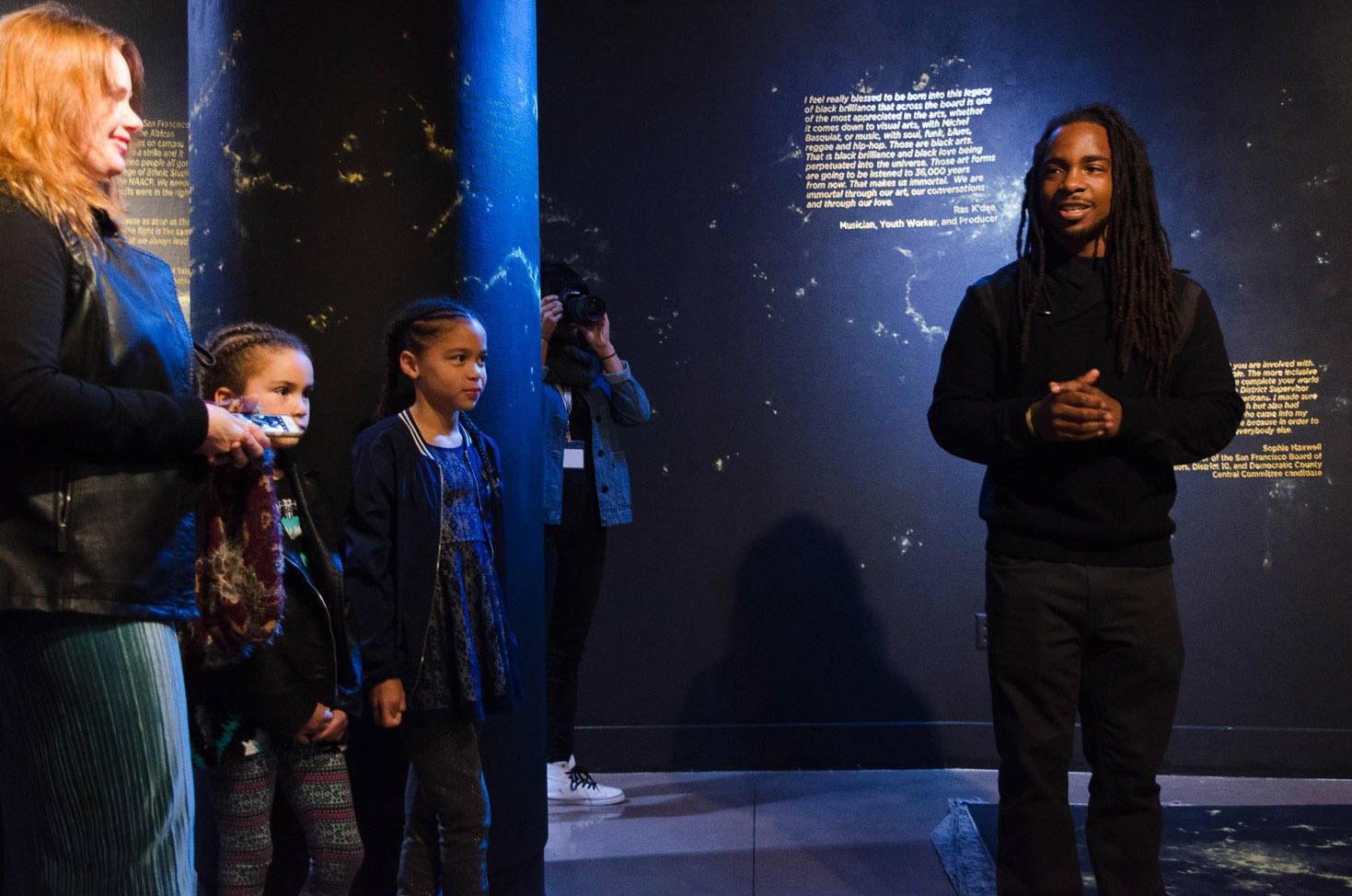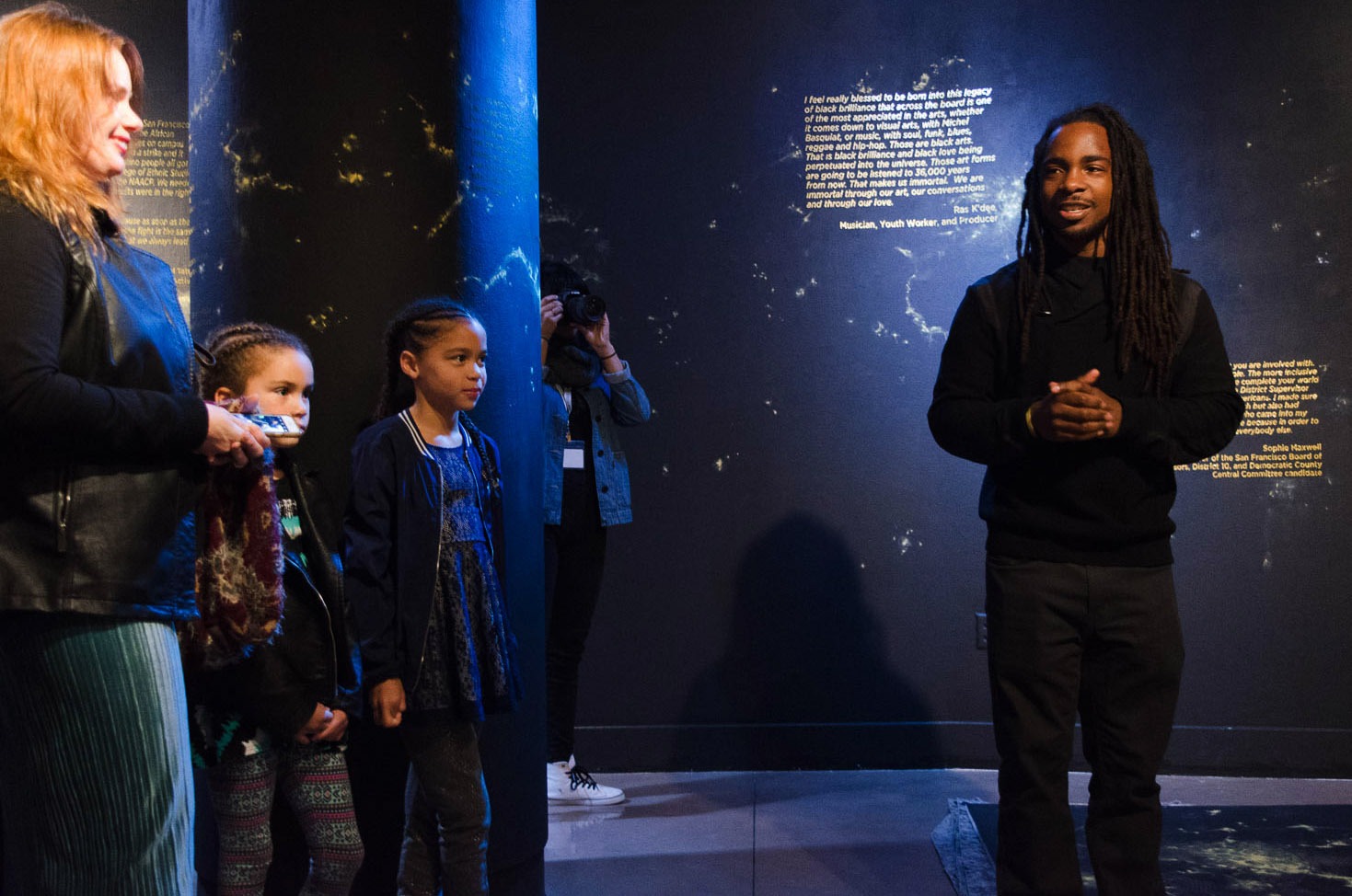 Forks said he dislikes the term "gentrification" because it stigmatizes white people. He believes they have the right to buy property and move into any neighborhood they like if they have the means to do so. Forks would rather do away with the word and see his people perform similar actions.
"We [black people] can do the same thing, in terms of building up our finances, building up our family legacies and family wealth," Forks said. "We can move into different communities and buy up properties, have businesses, and do things just as well as someone else is doing."
Phillips conducted interviews with roughly 20 people in the Bay Area's black community, ranging from professors to poets. "I like to think of them as conversations," Phillips said.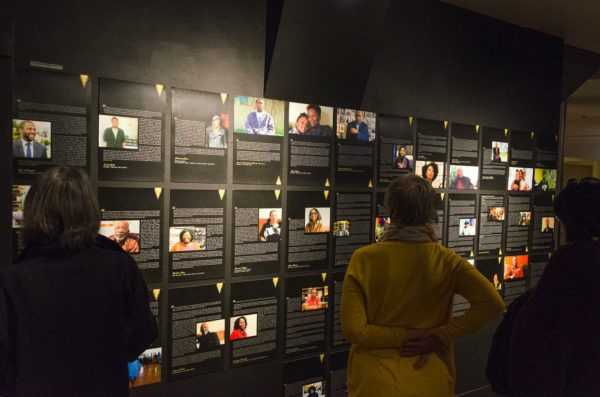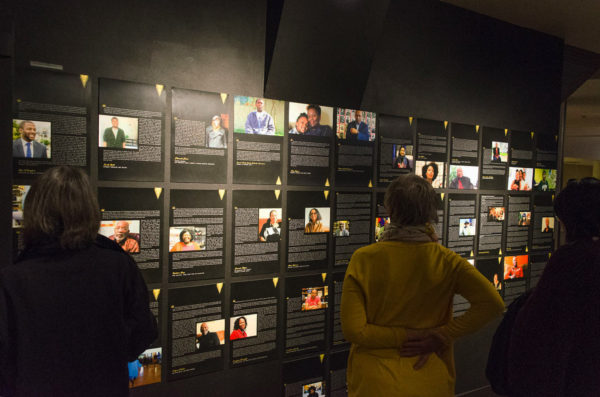 Portraits of each interviewee are on one wall in the gallery, accompanied by a few paragraphs about their experiences being black and what can be done to improve the black American experience.
Phillips chose his favorite quotes from all the conversations and scattered them across the gallery's long, curved wall. The gold lettering stood out against the black background, with gold dust resembling nebulas and galaxies strewn around the quotes.
Phillips said he got the idea for this layout from his Christian upbringing. He said although he no longer has any religious affiliation, he's fond of the ideology of a heaven-like realm being the birthplace of everything around us. He likened it to Creationism, with his chosen quotes sparking new ideas and discussions, the way god's words created the world.
"The idea of space," Phillips said. "Where from that infinite nothingness, everything becomes."
Phillips also got a musical performance for the opening reception of the exhibit. Edward Jackson, a member of Urban Funk Machine and longtime favorite of Phillips', performed a tap dance routine to Bruno Mars' "That's What I Like" and showcased his iPad and Intel-driven music production technology. He said he was interested in being part of Phillips' creation almost immediately.
"I said to myself, 'That young man is so heavy,'" Jackson said upon his first conversation with Phillips. "What we talked about had to do with god, art, the ancestors. I want to pay homage to Jarrel, because I normally don't come out [for events]. But this has been such an honor and privilege to support the community here."
Phillips mentioned that a young girl who had originally agreed to participate in the exhibit later declined, stating that she couldn't think of anything positive to say about being black. Phillips said he fully understands what "Black Lives Matter" means, but he knows that there are some people who simply don't, which could even be a black child.
"How do we magnify that significance that is there but sometimes overlooked?" Phillips said. "How are you mindful of just saying, 'There are no black people.' Say that to the black person at this exhibition who needs to see black people. It's important that we create the narratives as much as the narratives create us."